From an Edo-style sushi restaurant to a Tamagoyaki store
从江户前寿司发展到玉子烧店
Our history starts when the founder Otomatsu Saito was apprenticed to "Shouro Sushi", a sushi restaurant in Nihonbashi Ichiba (the present-day Ningyo-cho, Tokyo).Our flavor has been handed down to Motoshiro, the third generation of the Saito family. Our main store is located at Tsukiji Outer Market. Domestic and international branch shops can be found at supermarkets, department stores, and stations.
创始人斋藤乙松曾在日本桥市场(现在的人形町)的"松露寿司"做学徒,这便是松露的创业之初。现在第三代继承人斋藤元志郎延续传统味道,在筑地场外市场经营总店,并将店面扩展到日本本国及海外的超市、百货店和车站内。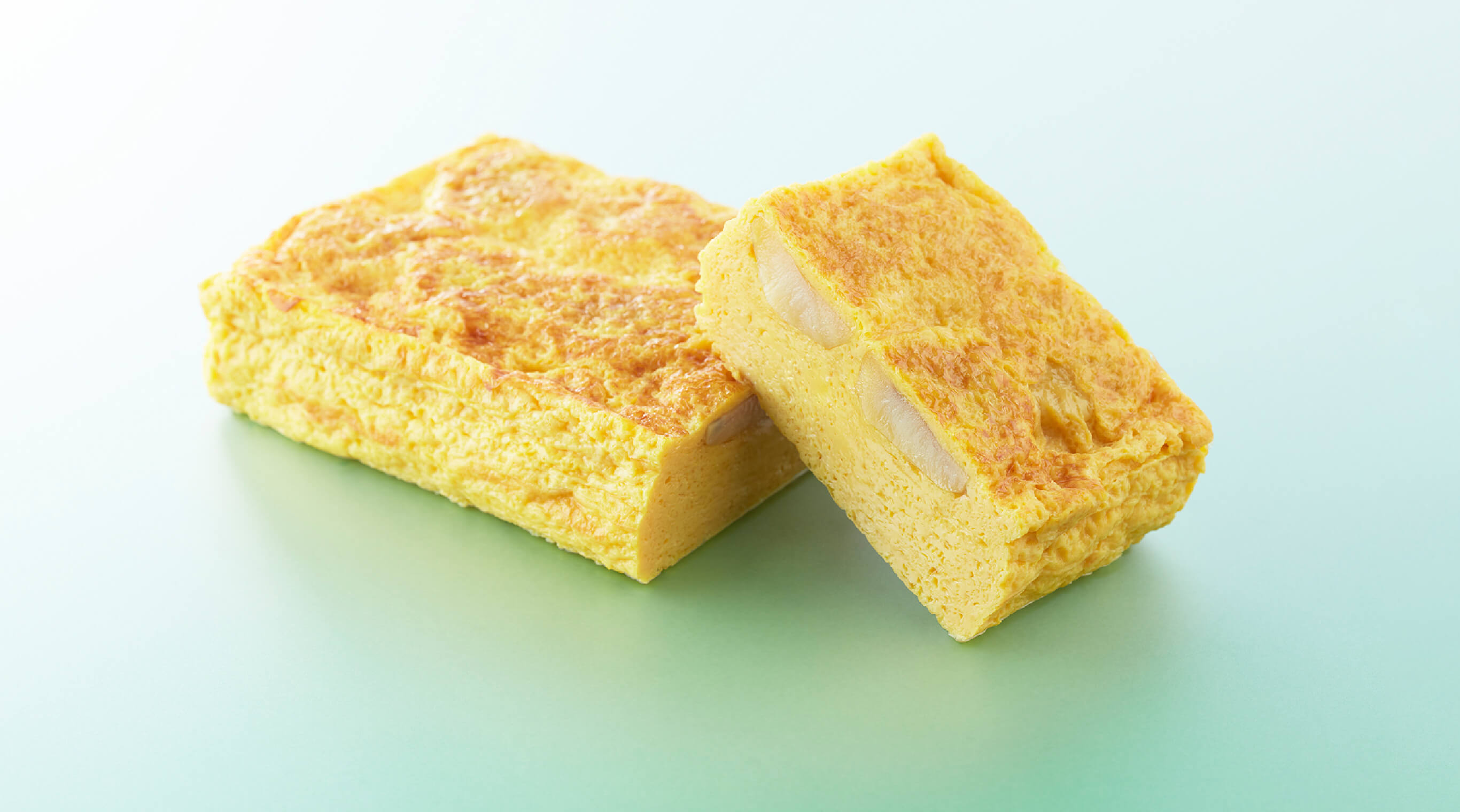 "Flavor" and "Color"
Why our customers choose us
经久不衰的理由在于"味"和"色"
At Shouro, we use "Miyakoji Eggs" as they are thoroughly safety-controlled. The color and flavor, as well as safety and security of the eggs result from our long trial and error process with the producers. Shouro Tamagoyaki is fluffy and smooth on the tongue; this is because we use only "fresh eggs".
松露使用的是受到严格安全管理的"都路蛋"。在保证安心安全的前提下,我们和生产者齐心协力,长年致力于改良鸡蛋的"颜色"和"味道",最终得到现在的品质。同时,松露玉子烧柔软嫩滑的口感,也源于我们对"新鲜鸡蛋"的坚持使用。

Company Profile
公司信息
| | |
| --- | --- |
| Company Name: | Tsukiji Shouro Co., Ltd. |
| Name of Representative: | Motoshiro Saito, President and Managing Director |
| Description of Business: | Production and Distribution of Tamagoyaki |
| Founded: | July 1952 |
| Capital: | 10 million yen |
| Number of Employees: | 40 |
| | |
| --- | --- |
| 公司名称: | 筑地松露 株式会社 |
| 代表人姓名: | 代表取缔役社长 斋藤元志郎 |
| 事业内容: | 玉子烧的制造和销售 |
| 公司成立日期: | 1952年7月 |
| 资本金: | 1,000万日元 |
| 员工数: | 40人 |
---
Locations
所在地
Main Store
Address:
〒104-0045
4-13-13 Tsukiji Chuo-ku, Tokyo 104-0045
Phone / Fax:
03-3543-0582 / 03-3543-0585
Business Hours:
Monday to Saturday: 6:00 to 15:00
Sunday, national holiday, when the market is closed: 7:00 to 16:00
Shinten (new store)
Address:
〒104-0045
KY Building 1F, 4-7-5 Tsukiji, Chuo-ku, Tokyo
Phone / Fax:
03-3542-0582 / 03-3542-0582
Business Hours:
Monday to Saturday: 9:00 to 18:00
Closed: Sunday, national holidays, when the market is closed
Workshop
Address:
〒104-0045
Matsuki Building 1F, 6-14-2 Tsukiji, Chuo-ku, Tokyo
总店
住所
邮编:104-0045
东京都中央区筑地4-13-13
Tel / Fax
03-3543-0582 / 03-3543-0585
营业时间
星期一~星期六6:00-15:00
星期日·法定节日·休市日7:00-16:00
新店
住所
邮编:104-0045
东京都中央区筑地4-7-5 KY大楼1F
Tel / Fax
03-3542-0582 / 03-3542-0582
营业时间
星期一~星期六09:00-18:00
休息日 星期日·法定节日·休市日
作坊
住所
邮编:104-0045
东京都中央区筑地6-14-2松木大楼1F

History
历史
| | |
| --- | --- |
| 1924 | Otomatsu, the first generation of the Saito family opens "Shouro Sushi" |
| 1945 | After the war, Otomatsu's wife Yoshi starts selling Tamagoyaki at the store, which become popular |
| 1946 | Starts "Shouro Tamagoyaki" as main business |
| July 1952 | Miyokichi, the second generation of the Saitos establishes a limited company Shouro |
| 1982 | Starts buying eggs from "Miyakoji Eggs" in Bando (former Iwai city), Ibaraki prefecture |
| May 1983 | Using Mitsukoshi Ginza's renovation as an opportunity, opens a shop at the food section on the second basement floor |
| December 1983 | Opens a store at Mitsukoshi Nihonbashi |
| 1986 | Enters into a contract with Miyakoji Eggs as the designated egg farm. Jointly starts planning the development of eggs suitable for Tamagoyaki |
| June 1986 | Opens a store at Mitsukoshi Shinjuku (closed when Mitsukoshi Shinjuku was closed in 2004) |
| September 1986 | Opens a store at Daimaru Tokyo |
| October 1989 | Opens a store at Mitsukoshi Ikebukuro |
| 1990 | Opens a Tamagoyaki factory in Bando (former Iwai city), Ibaraki prefecture (closed in 2004) |
| October 1992 | Opens a store at Tobu Ikebukuro |
| August 1993 | Opens a store at Sogo Kashiwa (closed in 2001) |
| July 2002 | Changes the company name to Tsukiji Shouro Co., Ltd. as well as changing the organization |
| September 2002 | Opens a store at Sogo Yokohama (closed in 2012) |
| August 2004 | Opens a new factory "Shiohama Factory" in Koto-ku, Tokyo |
| November 2004 | Opens a store in Tokyu Toyoko Norengai |
| October 2006 | Opens Tsukiji Shinten, our very first store on the street |
| July 2012 | Opens GranSta Tokyo station Ekinaka store |
| | |
| --- | --- |
| 1924年 | 创始人乙松在筑地开设"松露寿司" |
| 1945年 | 二战后,乙松的妻子乙松Yoshi在店里制作玉子烧受到好评 |
| 1946年 | 以"松露玉子烧"为正业开店 |
| 1952年7月 | 第二代继承人巳代吉创立有限公司松露 |
| 1982年 | 开始购买并使用茨城县坂东市(原岩井市)的"都路蛋" |
| 1983年5月 | 以三越银座店改装为契机,在地下二层食品卖场开设分店 |
| 1983年12月 | 在三越日本桥总店 开设分店 |
| 1986年 | 将都路蛋定为指定养鸡场并签订合同。共同开发适用于玉子烧的鸡蛋 |
| 1986年6月 | 在三越新宿店 开设分店(2004年因新宿店关门而撤店) |
| 1986年9月 | 在大丸东京店 开设分店 |
| 1989年10月 | 在三越池袋店 开设分店 |
| 1990年 | 在茨城县坂东市(原岩井市)建立玉子烧工厂(2004年关门) |
| 1992年10月 | 在东武池袋店 开设分店 |
| 1993年8月 | 在SOGO柏店 开设分店(2001年撤店) |
| 2002年7月 | 将商号和组织更改为筑地松露株式会社 |
| 2002年9月 | 在SOGO横滨店 开设分店(2012年撤店) |
| 2004年8月 | 在东京都江东区建立新工厂"盐滨工厂" |
| 2004年11月 | 在东急东横暖帘街 开设分店 |
| 2006年10月 | 开设松露第一家面向道路的独立店铺 筑地新店 |
| 2012年7月 | 开设GranSta东京站内店 |